Unite with Divine Mind and Confirm Unity of Human Kind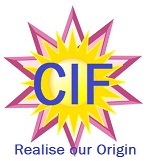 Proposed CIF Logo symbolism:
LIGHT from each faith radiates like the Sun. STAR points represent ten CIF interfaith objectives: equality, conversation, understanding, shared insights, relationships, cooperation, community, respect, cultural inclusivity,
freedom of belief.
The Origin of Species has been discovered by the Scientific mind in a single Tree of Life.
The Origin of Everything is found by the Religious mind in what some call the Mind of God
Humankind has a Single Origin
Let us Realise our Great Origin
Let us, in our various religions, Return to the Original Will of Heaven.
In this 21st century may religions be enriched by centering on their
Original Spark of Spirit & Light !
Have not all religions of the world originated to help make us aware of
unseen
existence and to lead us to the path of virtue.
CIF Vision
To see all people living and working in harmony, respecting all cultures, races and traditions.
CIF Objectives:

To promote open conversation between individuals of various spiritual traditions, based on equality and mutual respect.

To deepen knowledge, understanding and appreciation of various spiritual traditions.

To demonstrate loving and effective relationships between people of various spiritual traditions.
To share deeper spiritual insights and values in the community.
To uphold and respect the right of all human beings to maintain and practise in harmony the spiritual traditions of their choice.
To promote cooperative action involving participating spiritual traditions in the ACT.
To participate appropriately in community events such as the Multicultural Festival and multifaith worship.
To disseminate information on multifaith and relevant activities.
CIF Purpose
To enable and facilitate open exchange, dialogue and cooperation between people of various spiritual traditions within the
Canberra Region.
Canberra Interfaith Forum is supported by members of Indigenous, Hindu, Buddhist, Jewish, Christian Denominations, Muslim, Sikh, Baha'i, Sathya Sai, Pagan, Brahma Kumaris, & Sukyo Mahikari communities.
Unite with Divine Mind to Confirm Unity of Human Kind